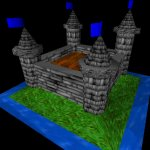 Castle GamesDomain was the earlier version of the Games Domain Castle, it featured on Games Domain and was basically the same as the Games Domain Castle.
Description
Edit
The description for this on the Jagex site read:
Castle GamesDomain
Castle GD, is a complete multiplayer games-suite! Set inside a 3D-rendered castle you can choose to play the other players from a selection of ten games. The games available are, Checkers, Chess, Battlecruisers, Quadlink, Reversi, MysteryMonster, Mahjong, Pairs, Crypt & Dungeon. Features amazing raytraced graphics, texture mapped 3d, chat rooms, league tables and more!
Interestingly it calls Dungeon Explorer, Dungeon and it called Treasure Crypt just Crypt. There was also no space between Games and Domain.