Flea Circus
Genre
Puzzle
Release
February 27, 2008
Multi-player
No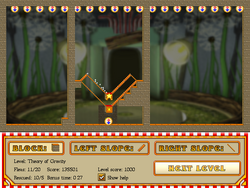 Flea Circus (FunOrb version) is a single-player puzzle game. It was released on the day of FunOrb's launch. Flea Circus is a remake of the original Jagex game, Flea Circus.
Description
Edit
FunOrb description read:
An addictive, fast-paced puzzle game that will challenge your gaming skills. Guide the fleas through each level by creating new paths.

The game contains the complete classic level set, along with over 40 brand new levels to tax your mind. It also features three distinct worlds to explore.
Gameplay
Edit
This game can be played using only the mouse. Players must guide a certain number of fleas from one point to another by placing three different items on the map: walls, left slopes and right slopes. The keys 1, 2, and 3 provide a quick way of changing the current item.
More Info
Edit
For more information visit the Flea Circus aticle on FunOrb Wikia here.

This page is just a summary; for more in depth detail please visit the FunOrb wiki.
Ad blocker interference detected!
Wikia is a free-to-use site that makes money from advertising. We have a modified experience for viewers using ad blockers

Wikia is not accessible if you've made further modifications. Remove the custom ad blocker rule(s) and the page will load as expected.