This section or article is incomplete and could do with improvement.
You can edit this page to improve it.

The Moon version of Fuel Critical featured on Games Domain when they divided the game into three sections. This was the second version and featured Moon styled levels. The Games Domain description for this game read:
Moon

This mission offers the most variety! As well as the hazards from Earth and Mars you will also have to contend with snakes, asteroids, and men on jetpacks.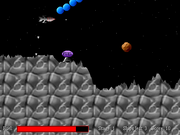 Ad blocker interference detected!
Wikia is a free-to-use site that makes money from advertising. We have a modified experience for viewers using ad blockers

Wikia is not accessible if you've made further modifications. Remove the custom ad blocker rule(s) and the page will load as expected.