There was only one difference from the Gold Mine on the Jagex site and the Gold Mine off of Games Domain. Wrapper.class was added to Gold Mine on the Jagex site, it is definately missing off of the Games Domain site. Other than wrapper.class, Jagex copied the code off of Games Domain to put on their own site.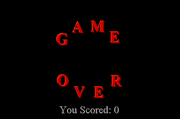 Cheat Code
Edit
The Bottomless Pit said that pressing * would skip levels, however no points would be gained if done so.

This section or article is incomplete and could do with improvement.
You can edit this page to improve it.