Hold the Line
Genre
Racer
Release
February 27, 2008
Multi-player
No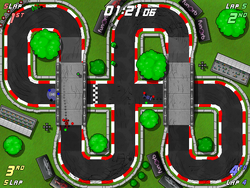 Hold the Line is a racing game. It was released on the day of FunOrb's launch.
Description
Edit
FunOrb description read:
Race your way to victory over 16 tracks set in four distinct environments. Pick up combinations of speed boosts, shields and weapons to fight your way to the finish line. Can you hold first place against the other racers? Can you hold it together against your powered-up rivals? Can you Hold the Line?
Players control their cars from a birds-eye view around various tracks in various environments. In Championship Mode, you race against three opponents and the aim is to complete the tracks in either first or second position, which will unlock the next track. There are four championships, each with four tracks. Around the tracks are various powerups, which can be used to help yourself, or hinder others.
There are also other play modes, including single player races and practices. Demolition Mode is won by destroying your opponents using various methods.
More Info
Edit
For more information visit Hold the Line aticle on FunOrb Wikia here.

This page is just a summary; for more in depth detail please visit the FunOrb wiki.