Hostile Spawn
Genre
Shooter
Release
May 21, 2008
Multi-player
No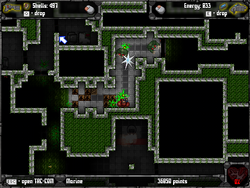 Hostile Spawn was a shooter game released on 21 May 2008, 3 months after FunOrb's original release. It shares similar graphics to Outpost 31 however they are not linked.
Description
Edit
FunOrb description read:
After the UFE Starship Hammerhead failed to report on its mission, you were sent in to investigate. As you searched the now abandoned ship you discovered the festering presence of an alien spawn...and they're hostile!

Take up your standard issue auto gun and cleanse the Hammerhead, then descend to the surface of the planet Kerrus to wipe out the infestation at its source...with the help of a few more powerful weapons.
Ad blocker interference detected!
Wikia is a free-to-use site that makes money from advertising. We have a modified experience for viewers using ad blockers

Wikia is not accessible if you've made further modifications. Remove the custom ad blocker rule(s) and the page will load as expected.