Melt Down
Genre
Shooter, Arcade
Release
???? ??, 1998
Multi-player
No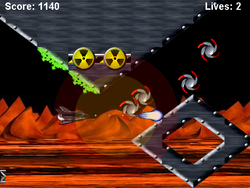 Melt Down is a game on the Jagex site. It's a classic shooting and dodging game. It is one of the few remaining games on the Jagex site and can be found here. It is possible that Dr Phlogiston Saves the Earth is a remake of this.
Description
Edit
Its description read:
Melt Down
Battle past hoard of enemies, and escape from the doomed power plant, in this cool shoot-em-up game! This game is also available for purchase.
Controls
Edit
Use the arrows keys to move your ship, and spacebar to fire the main weapon. hold N or M to charge the plasma gun, release the key to fire.
Press R to change the screen resolution. If the game is running slowly the resolution should decrease automatically, if it doesn't or you want extra speed just press R.
The plasma gun can shoot through walls! Use it to get those annoying gun turrets. Look for safe routes through the level, sometimes going an initially difficult way will be easier overall. Some sections of level are easiest if you sit at the front of the screen, others are easier at the back.