Miner Disturbance
Genre
Arcade
Release
February 27, 2008
Multi-player
No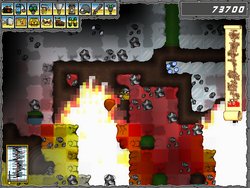 Miner Disturbance (a pun on "minor disturbance") is an arcade game. It was released on the day of FunOrb's launch. Although it has a similar name to Gold Mine they are not related.
Description
Edit
FunOrb description read:
Can you guide Moin through Mount Magros? You'll have to mine the precious minerals and put the murmurings of mythic miner-munching monsters out of your mind! Will you be able to escape the molten magma to make him a truly eminent miner?

Choose your equipment carefully. Will you grab the aqualung and forfeit the scanner? Can you afford to leave the gas mask behind? And what about the map? With so many decisions, random map generation and a variety of dangers along the way, Miner Disturbance is a game you will come back to again and again.
Players play as Moin, a dwarf miner, and must mine precious metals and gems from rocks in Mount Magros, a fickle volcano filled with gas and water, while avoiding mythical monsters, and finding their way out if the volcano erupts.
More Info
Edit
For more information visit Miner Disturbance aticle on FunOrb Wikia here.

This page is just a summary; for more in depth detail please visit the FunOrb wiki.