Use this page to discuss design and content changes to the main page. For general wiki discussion, please visit the Community Portal or Forums.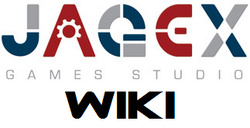 We should use new Jagex logo. King Vivil Talk 14:18, 8 August 2009 (UTC)
Added example new logo. What do you think about it? King Vivil Talk 15:26, 8 August 2009 (UTC)
It's still valid. King Vivil Talk 18:14, October 2, 2009 (UTC)
=[ King Vivil Talk 23:32, November 3, 2009 (UTC)
What do you think about new logo? King Vivil Talk 08:32, November 7, 2009 (UTC)
Runescape Classic wiki
Edit
In the sister wiki category on the main page, could you add the Runescape Classic wiki? We need more editors over there and that would help. Thanks, --Kid2255 Talk 22:11, November 15, 2009 (UTC)
Added. King Vivil Talk 12:26, November 16, 2009 (UTC)
Ace of Spades
Edit
Hey there, I've added a link to the Ace of Spades Wiki (aceofspadeswiki.info), which is another Jagex game. MilkAndTwoSugars (talk) 03:22, September 9, 2013 (UTC)
Ad blocker interference detected!
Wikia is a free-to-use site that makes money from advertising. We have a modified experience for viewers using ad blockers

Wikia is not accessible if you've made further modifications. Remove the custom ad blocker rule(s) and the page will load as expected.