TetraLink
Genre
Strategy
Release
February 27, 2008
Multi-player
Yes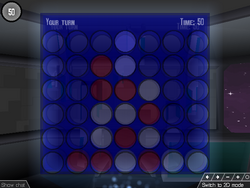 TetraLink on FunOrb is the remake of the original TetraLink, Quad-Link and Runelink. It is basically connect four.
Description
Edit
FunOrb description read:
The classic two-player strategy game of falling counters. Drop your pieces into the grid and get four in a straight line to win! Take on players from all over the world for a place on the highscores table!

You can play against your friends on the same computer, or take on a tougher challenge and play ranked games against anonymous opponents online! Only the very best will make it onto the elusive highscores table.
TetraLink is a game where players take turns to place counters into a 6-row, 7-column grid. In order to win, one must place four of their counters in a straight line horizontally, vertically or diagonally. This game is multiplayer, and has a lobby to match people for games. Players who are active in TetraLink are able to chat with their friends on RuneScape and the multi-player FunOrb games. There is a hotseat mode, where two players play on the same computer.
Rated Games
Edit
Every multiplayer game has a player rating, which determines the player's average score. When playing a rated game, the winner will gain rating, while the loser will lose rating. Each player has separate ratings for different games. One cannot choose their opponent in a rated game, and it cannot be played in hotseat mode. In the event where neither player can get four counters in a row, or if they both accept a draw, a players rating does not change.
More Info
Edit
For more information visit TetraLink aticle on FunOrb Wikia here.

This page is just a summary; for more in depth detail please visit the FunOrb wiki.