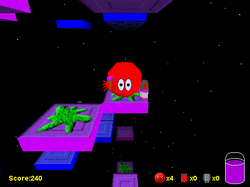 Vertigo (2000) is the only minigame still advertised on the Jagex site (under Minigames). It is unknown why it hasn't been removed from the minigames section. It has been on it since the start of the Jagex (although it was remade on it once with the previous version being Vertigo (1999)) site and there was a previous version on Devious and Cunning Games called Parallax Painter which makes it the longest running Jagex game (shortly followed by RuneScape which was made as DeviousMUD a few months later. It can still be found on the Jagex site here. It has also been remade on FunOrb as Vertigo 2.
Description
Edit
Its description in 2000 read:
Vertigo
Vertigo is 3d platform/puzzle game. Move your charactor around the 3d world and try to paint all the blue blocks purple! Many different blocks will hinder your progress though. Features 120 levels, 1-player, 2-player, and deathmatch modes! As well as a tutorial and cool background music.
Ad blocker interference detected!
Wikia is a free-to-use site that makes money from advertising. We have a modified experience for viewers using ad blockers

Wikia is not accessible if you've made further modifications. Remove the custom ad blocker rule(s) and the page will load as expected.