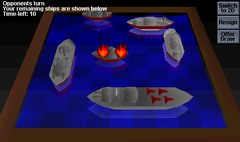 Warships (which featured on the Jagex website) was a remake of Battle Cruisers (which featured on Games Domain). Its gameplay was based upon the popular game battle ships. It featured on the Jagex site in and around 2004. Interestingly enough it is the only game to have not been remade on FunOrb or RuneScape, it is possible that Jagex are planning to remake it pretty soon as they did promise the return of all multiplayer games.
Description
Edit
When it featured on the Jagex website in 2004 its description read:
Warships
Attempt to sink all your opponents ships
Ad blocker interference detected!
Wikia is a free-to-use site that makes money from advertising. We have a modified experience for viewers using ad blockers

Wikia is not accessible if you've made further modifications. Remove the custom ad blocker rule(s) and the page will load as expected.