Wizard Run
Genre
Platform
Release
February 27, 2008
Multi-player
No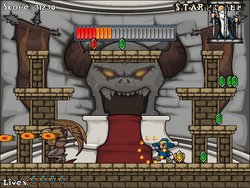 Wizard Run is a platform game. It was released on the day of FunOrb's launch.
Description
Edit
FunOrb description read:
The evil Harpy King has descended from the mountains and stolen away your master. Using his magical hat, you must guide the apprentice through 6 worlds full of the Harpy King's minions and harness the power of the stars to defeat them.

There is a long journey ahead, but with courage and determination, you will be victorious.
In the game, the player controls Alice the Apprentice, who must defeat bosses in six worlds of increasing difficulty. Each world has five levels, and the player must defeat every enemy in each level in order to advance to the next one.
More Info
Edit
For more information visit Wizard Run aticle on FunOrb Wikia here.

This page is just a summary; for more in depth detail please visit the FunOrb wiki.
Ad blocker interference detected!
Wikia is a free-to-use site that makes money from advertising. We have a modified experience for viewers using ad blockers

Wikia is not accessible if you've made further modifications. Remove the custom ad blocker rule(s) and the page will load as expected.